In the dark room choosing your enlarger was one of the major decisions you made to your work flow. Advances in paper and chemicals in the different brands would come in and out of your darkroom but the enlarger was such a big piece of equipment in size and money that you would rarely look to change, if it worked.
In your digital darkroom things have to move with the times, to take advantage of the technical advances and to make your images the best they can be. Computers need continual upgrading, graphic cards, processors, ram and memory. While operating systems keep changing. Although there are some arguments about Mac vs PC which I won't get into now, a computer be it Mac or PC which is 5 years old will now be out of date.
Since 2007 windows have released two operating systems; Vista and 7 and one on the horizon, while Apple has been through five; Tiger, Leopard, Snow Leopard, Lion and Mountain Lion. If your computer is your darkroom then your editing program is your enlarger. The same as keeping up with computer advancements you must do the same with your editing software of choice. Photoshop has been through three version upgrades since 2007 with CS3 through to CS6 with upgrades coming roughly every 2 years. In my opinion there have been no major upgrades for photographers within Photoshop since CS4 (2008). Photoshop just like most new technology comes with a large price tag when buying outright although the upgrade price is not so extravagant.
For most people when they think about digital photography the first thing they see is Photoshop but there are other alternatives. There are many options you can take some of them are freeware and open source while others you must pay for. The question is which, of them meets your darkroom needs.
Gimp (an acronym for GNU Image Manipulation Program) is a free, open source image manipulation program which runs on most operating systems including Windows, Mac OS X and Lumix. Gimp has many features including image editing, retouching, free drawing, image resizing montages and the ability to work with channels. The developers of Gimp strive to keep maintaining the program as a high end free to use graphics manipulator. Regularly brought out by the media as an example of a replacement to Photoshop the developers say that is not their aim. It does share some of the functionality of Photoshop but so does every other graphic editing software.
Gimp is a pure editor it has no file management system unlike Google Picasa.
Gimp 2.8 uses a single window interface with floating pallets one for your image with another two, one filled with icons for editing tools and another containing channels , paths and the like.  For a user of Photoshop the layout is very similar but they will feel as if they are visiting a foreign country.
The only drawback is that the tools offer the bare minimum needed to get the job done which is sometimes made more frustrating by cryptic error messages if things go wrong. For basic adjustments for like colour balance, brightness and contrast, crop, etc. are easy to implement. For red eye removal there is no one click adjustment and a longer path is needed.
It can be said though once you have learnt the tools and their limitations a lot can be done but there is the time needed to do this.
Gimp does have full support for layers and masks, painting tools, sophisticated brush controls, animation and a handy visual history tool with preview thumbnails. Though for me one of the major draw backs is no  non-destructive editing and no ability to edit in a 16bit environment.
Smaller issues are with the usability of Gimp. When minimizing the program the floating pallets remain on your screen, also when you open multiple images in tabs it is hard to keep track of them.
For all Gimps limitations if you have the time and the patients to learn how the system work with hacks and plugins it could be a viable editing system.
When I first heard of Paint.net I had a little giggle, MS Paint to edit pictures. I have memories of using MS paint on Windows 3.0, painting over a pixelated (by the modern world comparison) Mona Lisa and Tiger pictures. Now in the windows 7/8 era paint.net part of the .net framework is more complex than Microsoft Paint and less intimidating than Adobe Photoshop. Paint.net is a Windows only, free to use, image editing software featuring a simple interface with a number of different plugins available.
The main factions that are needed for editing images are available and workable within Paint.net. The program is straight forward and logical if you are looking just to make your images standout. The application has many filter options like emboss, blur, sharpening and red eye. Most are one click wonders, choose the filter click it and program does the rest with a small degree of user control. Unlike Gimp paint.net does have a red eye removal tool though not as easy to use as higher end editing suites.
One major advantage that even high end applications don't have is a history tool that will undo all the way to the image opening. Paint.net can also open most file formats apart from raw just like Gimp.
Although a lot similar to use as Gimp its editing abilities fall short, but is a great application for someone who like to take pictures and needs them to pop without too much technical ability. If you are looking something more advanced this is not the program.
Google's foray into photo editing put me off from the get go. I am not a fan of programs that try to organize me. When you load up Picasa for the first time it tries to organize all your image documents on your computer grouping to its own predefined categories. This is a bug for me. If I wanted my images arranged in a certain way I would do it but Picasa doesn't seem to care. This approach of program design put off me and I am sure others who have their own filing system and know where there images are. Although if you do need this help maybe Picasas function will be useful to you.
Picasa is an image editor from Google and is in its third version, is free to use and is available for Microsoft, Mac OS X and Limux operating systems. As with other Google products it is easy to use and straight forward. You can easily find your images as it keeps track of your folders containing images and updates its database automatically when folders are created and new images are found. Picasa can import most image formats including raw. Once you have edited your pictures you can add geo tags simply by using the Google maps interface to locate where you took your image. After tagging Picasa allows you to easily share your images.
All editing is done non-destructively with an infinite undo so your images are always safe. The number of filters are limited but are all of a good quality
So where is the problem, well apart from my annoyance stated earlier, there are no major problems as with most Google programs they are well tested and do what they say on the tin. For an average point and shoot photographer this program is great and will do all you need, but for those who want to be a bit more creative Picasa has a ceiling. Even if you are not a techie you may get fed up with your computer being filled with .ini files (Picasa native format) and a limited search option (although it is great at organizing what you may want to search for). The limitations don't end with the search options there is also only 1gb of standard cloud storage which will be filled quite quickly.
Gimp Paint.net and Picasa would be ideal for a beginner who wants to learn about image editing it can be worth investing the time into the program. Whereas Paint.net may have the usability and logical options that means less time needing to be invested and has available like Gimp many plugins, Gimp is a more powerful editing tool. In the end though for me Picasa takes the prize for a regular point and shoot photographer, the simplicity well-built and with factions that are wanted.
Gimp, Picasa and Paint.net are major rivals fighting on the same level. Though none of them can punch above their weight and are not able to compete against the premium programs. They lack the power and control that is needed to work on a professional level.
Serif has two options for its Photoplus software; there is the X5 premium version and the starter edition which is free. Serif Photoplus is a Microsoft based image editor and is part of a larger suite which includes web design and vector editing.
The starter edition is basically a free infinite trial version of the program without some of its more flashy features like HDR and photo merge. The only problems with the starter edition is that there are no ways to tell what features are in the edition and which are only available with the upgrade to the X5 edition until you try to use them and a warning box appears. Apart from this the starter edition could easily be compared to Photoshop Elements. The starter edition is a striped down edition of a stronger program and perfect for an amateur.
With both editions the interface is similar to Photoshop and as with Photoshop there is a steep learning curve. To help users combat this steep climb to proficiency there are easy to use help panels guiding your use of tools and filters.  An experienced digital image editor will not have a problem picking up Photoplus and running with it because of its similarities. With a lack of keyboard shortcuts it can be a pain to work fluidly with the program.
Adjustment layers are present and you can build them up with blending modes but in the Starter Edition this is its major drawback. The first five adjustments are not available in the starter edition, curves, levels and colour balance. These are the most valuable adjustment layers for a photographer so the starter edition is not worth the download but the X5 (paid version) is probably worth the money. These adjustments are simple to use with a pick and click method. You can easily add and remove parts of your image using the Cutout studio.
You can record Macros which are similar to creating an action in Photoshop. This ability helping with regular editing actions sets it automatically above Gimp and the free licence editing programs. Being able to control your work flow even for an amateur editor is important.
Photoplus comes with file management software as part of its bundle to easily organize your image library. With the Organizer module you can use Google maps to geo tag your images. Also with an export mode to Facebook and Flikr means it beats Picasa hands down.
The price of Photoplus x5 is £79 is not a huge price tag when you effectively have a competitor to Photoshop. Many may argue that Picasa is a free program yet for a serious amateur to pay out this small amount is well worth it.
Paint Shop Pro was the first photo editor I ever used before I was taught on Photoshop. It was Paint Shop Pro 7 and it was a fairly simple program to make basic adjustments but I never got any further. Now the software is owned by Corel and on its X5 edition not to be confused with Photoplus. Paint Shop Pro will run on windows.
Paint Shop Pro is an interesting program on first appearance like Photoplus it looks like Photoshop on the surface but does not quite live up to its appearance in power. Only running on a 32 bit system limits the files being generated to 2.gb after this the files will either stop working or crash the program. Even if you run a 64bit system the program will run at 32bits unlike Photoshop. This can be a big problem when creating images with multiple layers.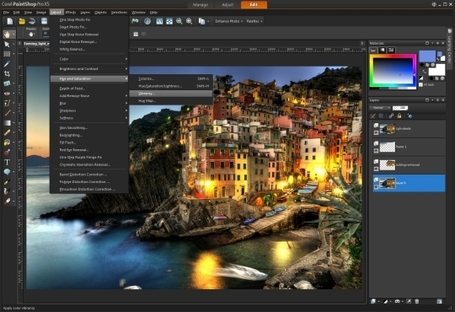 Paint Shop Pro does seems to be aimed more towards the consumer market than the pro with the X5 outing. PSP has face recognition to enable you to tag your contacts and enables easy sharing across social networks. It can also group images by these tags. As well as facial recognition you can also geo tag images easily all with a built in Facebook and Flikr uploader allowing your tag contacts to be notified.
Most of the modifications you can make to images are one click instant effects with some manual adjustment available. There is a built in HDR mode with the option to make a HDR image from a single raw file is more like a filter than a HDR processor.  The retro lab that simulates different film techniques and stock will definitely attract fans of Instgram.
All these things put together shows it as a slick image processor but not a great image manipulator. One of the things I would want is a way to be creative and not stuck in the box. This is where I think that Photoplus has an edge over Paint Shop Pro. To be able to create your own methods for example to simulate film gives each photographer a different style of a possible similar tonal image whereas with a filter gallery all the images would look the same. There is an ability to build up an image but you are limited by the potential file size and with cameras creating bigger it really can in habited what you want to do. For a consumer to have an instant gratification maybe what is wanted but for an amateur or pro this is not great.
There is no difference between the price of Photoplus x5 and Paintshop Pro X5 with both retailing at £79
Is there a realistic software alternative to Photoshop?
Well yes and no. Most people like to say that Gimp is an alternative for Photoshop but I would strongly disagree. The open source software even with the hacks does not have the power or precision to be a valid alternative. Picasa is a good alternative for a hobbyist but not quite for an amateur. For someone who is wanting to take photography seriously Photoplus from Serif seems like a great contender. It has a lot of the similar interfaces and manual procession that you would need. A lack of a 64bit program like Paint Shop Pro will limit its output files but at that level would you be creating such large files. At £79 it seems like a good deal and especially since there is stripped down version you can test drive before you buy. Against the price for Photoshop this could be a real alternative. With time to fully understand and master the program you could output images that rival what you would achieve in Photoshop.
For me I have invested a lot of time and money into my workflow and software so I am not going to change anytime soon.
What editing software would you recommend?
Let me know.